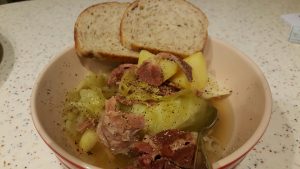 Cabbage and ham soup is a family favorite.  Using the leftover ham from Christmas or Easter dinner, as well as potatoes and onions, make this soup perfect.  Traditionally, we have this for New Year's Day and the week after Easter.
Here is my recipe for Cabbage and Ham Soup….YUMMY!!
Ingredients:
Ham bone with ham attached, and any other leftover ham pieces or ham hock
1-2 large onions roughly chopped
1 tablespoon whole peppercorns
1 bay leaf
2 cups of chicken stock
2 heads of cabbage cut into wedges
6-8 medium potatoes, peeled and cut into eighths
Salt and Pepper to taste
Preparation
Place ham bone, and any additional ham, into huge stock pot, since the ham is salty, I do not add any salt at this time.  Add onion, peppercorns, bay leaf and chicken stock, cover with cold water and bring to boil.  Lower heat and simmer for 1 hour.
Prepare for your house to smell like ham. ?
Add cabbage wedges to simmering water. After 15 minutes, add the potatoes. Cook for about another 15 minutes or until the potatoes are fork tender and remove from heat.
Remove ham bone and separate the meat from the bone, return both bone and meat to the pot. Discard bay leaf.
Serve
Serve in large bowls, season to taste with pepper. Taste before adding salt. Serve with rye bread for dunking. YUMMY.
Storage
Once soup has cooled, transfer to smaller, lidded containers.  You can refridgerate the soup for about 3-4 days.  If you don't plan on eating it all in that time.  Then prepare to freeze.  I usually break it down to one serving portions and then put  in zip top bags, get as much air out of the bag as possible, and lie flat in the freezer.  You can freeze up to 3 months.  When defrosting, I usually use a bowl or plate under the bag since the bags do sometimes fail.
Have you made cabbage and ham? Have you tried my recipe? I would love to hear your comments, below.