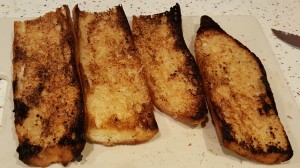 One of my favorite side dishes is garlic bread.  My family loves to have it anytime we have something saucy, soups, stews or any other savory, dunk-able meal. Now, if you're watching your calories, then this recipe is not for you.  I put a lot of butter in it, usually a stick and a half to 2 sticks, depending on the amount of bread. That's what makes it the best garlic bread ever.
Preparation:
I start with a crusty loaf of Italian bread or a crusty French baguette I cut it into easier to work with pieces and then, slice down the middle. If you're having a hard time cutting the bread, try a serrated knife.
I line a cookie sheet with aluminum foil, and place the bread on it, cut side up.  For this amount of bread, I used a stick and a half of melted butter and about 3-4 cloves of chopped garlic was added.
Then, I soak the bread with this mixture and top with grated Parmesan cheese.
This preparation can be done ahead of time. Since it only takes about 4 minutes under the broiler, I usually wait until everyone is sitting down to eat before broiling it.
Broil:
Once it's in the broiler, don't leave it. The bread can burn in the blink of an eye.  These pieces were done in 4 minutes.
The other 2 were not quite ready, I put them back under the broiler for a little bit longer.  Now, here's what I mean by they can burn in the blink of an eye.
Never-the-less, it wan't a big loss, though, after scraping some of the charred area off, I cut the bread into small pieces and made them into croutons. They will be used for Split Pea Soup.  This recipe will be in a future post.
Ready to serve:
The good pieces of bread were cut into small slices and were ready to serve. They went well with my chicken parmigiana. That recipe is coming soon.
Have you tried this recipe? Did you change anything? Would love to hear what you think.  Leave your comments below.